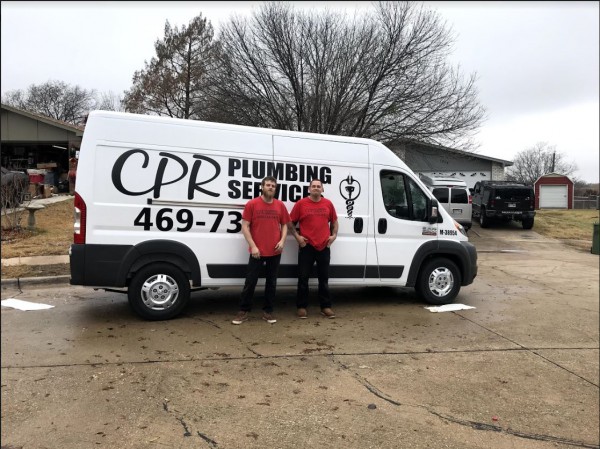 At CPR Plumbing Services, we are committed to serving your best interests. We know that when plumbing catastrophes strike, you need to get service immediately.
When you work with CPR Plumbing Services, you'll be impressed not only by our quick responses, but also by our superior workmanship and attention to detail. We're all about accuracy; one small mistake in diagnosis or repair work could lead to huge problems down the road. Our plumbing experts know exactly what it takes to fix your problems. You'll be impressed by our wealth of plumbing knowledge and skill.
Drain and Pipe Cleaning and Repair in Frisco
Drain and pipe clogs are incredibly frustrating. Far too many Frisco residents attempt to resolve these issues on their own, but this DIY approach can often make matters worse. If you're dealing with blockages or other drain and pipe issues, you should contact CPR Plumbing Services.
One of our go-to methods for cleaning out drains and pipes is hydro-jetting. This effective solution involves a burst of high-pressure water which shoots through your pipes and cleans away the foreign matter responsible for your current obstruction.
In addition to cleaning your pipes, we offer a range of repair services. Many Frisco residents seek our assistance with locating and resolving water pipe leaks. Occasionally, replacement is a better option; if this is the case, we'll let you know why we recommend replacement and how much it will cost. Transparency is very important to us; we fully understand your desire to stay within budget.
CPR Plumbing Services' Commitment to Great Customer Service
At CPR Plumbing Services, we aren't satisfied unless our customers are. We consistently receive excellent feedback from both new and regular customers. Our ratings on Yelp and Google speak for themselves; customers are clearly enthusiastic about our commitment to quality.
In addition to receiving numerous excellent reviews from satisfied customers, we've received local awards, such as:
Star Local Media Reader's Choice Awards: Best Plumber in The Colony (2011, 2015, 2016, 2017)
Expertise: Best Dallas Plumber Award (2018)
How do we achieve so many impressive ratings and awards? Because we are passionate about plumbing! This is abundantly clear to our satisfied customers. They can immediately tell that we care about not only our work, but also their best interests. This warm, caring approach means that we never take shortcuts or cheat our customers with expensive solutions they don't need. We're honest, transparent, and committed to quality.
Living in Frisco
A cherished part of the Plano Metroplex, Frisco has an estimated population of 174,799. Since it's just over a half-hour drive north of Dallas, Frisco tends to attract commuters who are willing to sit in a bit of traffic in exchange for Frisco's beautiful neighborhoods, great schools, and lovely parks.
There is plenty to keep residents and visitors busy in the city of Frisco. Sporting events are a hit here; residents love to gather at the 20,500-seat Toyota Stadium to watch FC Dallas games. The stadium also holds several concerts and special events. Frisco is also home to the National Videogame Museum.
Community involvement is a big deal in Frisco. The city relies on enthusiastic volunteers for everything from shelving library books to portraying Rufus Recycles, the city's lovable environmental services mascot. Every year, volunteers help to make the Frisco Freedom Fest a success.
Frisco homeowners are committed to keeping their properties in tip-top shape. At CPR Plumbing Services, we take just as much pride in our work as you take in your home.
Contact us today to learn more about our plumbing services. Call (469) 514-5707.