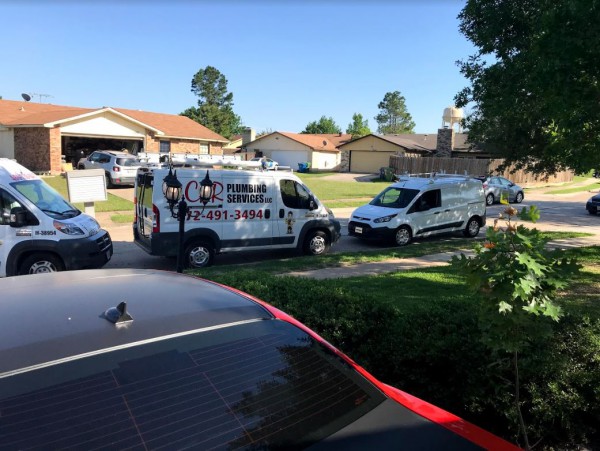 CPR Plumbing Services is a trusted plumbing company in and around Plano.
We offer a wide range of services, including:
No matter what your current plumbing issue is, you can depend on CPR Plumbing Services for a quick response.
When you call CPR Plumbing Services, you'll be greeted by a friendly employee who will patiently listen to your concerns. We'll send out a technician to examine problem areas and advise you on the best course of action. When you count on CPR, you're guaranteed quality workmanship and a fix that will stand the test of time.
Drain & Pipe Cleaning & Repair in Plano
Clogs can show up at any time and for a variety of reasons. When they do, it's important to seek assistance from CPR Plumbing Services.
The team at CPR Plumbing Services employs several advanced techniques to resolve blockages. Rooter cameras grant us a close look at your plumbing issues, allowing us to better diagnose the problem and determine the right solution. In many cases, the preferred approach involves hydro jetting, which uses high water pressure to remove blockages. Rooter services may prove necessary if root infestation is responsible for your current plumbing woes.
CPR Plumbing Services' Commitment to Great Customer Service
It's no secret that exceptional customer service is a priority at CPR Plumbing Services. Our Plano customers consistently report A+ service from our skilled team. Our prompt service and attention to detail are made evident not only by our excellent reviews, but also by the numerous awards we've earned over the years. Star Local Media readers named CPR Plumbing Services the Best Plumber in The Colony in 2011, 2015, 2016, and 2017. In 2018, Expertise granted us the Best Dallas Plumber Award.
At CPR Plumbing Services, quality customer service means several things. It means being available when Plano residents need us, no matter how late, and it means responding quickly to customer calls.
Customer service isn't just about timing, although that's obviously important; it's also about attitude. We're kind and compassionate. We understand why you may feel panicked. We also know that the best solution to your current anxiety is exceptional plumbing workmanship. At CPR Plumbing Services, we do the job right the first time so you don't need a return visit. We're committed to our customers' satisfaction, and it shows in every repair.
Living in Plano
Located just twenty miles north of Dallas, Plano is both a corporate hub and one of America's safest cities, according to Forbes. As of the 2010 Census, Plano boasted a population of 269,776, making it the ninth most populous city in the state of Texas. Despite its size, however, Plano remains a friendly city where residents feel connected.
Plano is a surprisingly quiet community, but that doesn't mean that residents are forced to sit around at home or commute to Dallas or Fort Worth. There are plenty of amenities right in town to keep locals entertained. Several excellent shopping destinations can be found here, including Collin Creek Mall and the Shops at Willow Bend. Outdoorsy types can spend their time at the lovely Oak Point Park and Nature Reserve, which spans 800 acres.
Plano residents are active in their community. They show they care not only by getting to know their neighbors, but also through volunteerism. Plano's VIP office carefully matches those eager to volunteer with jobs that make the most of their passion and skill set. Volunteers may find themselves assisting at libraries, animal shelters, or community cleanup events.
Frustrated with your plumbing system and ready for a quality fix? Don't trust just anybody to resolve your plumbing concerns.
Contact CPR Plumbing Services today to learn more about our approach and how we can solve your plumbing problems. Call (469) 514-5707.