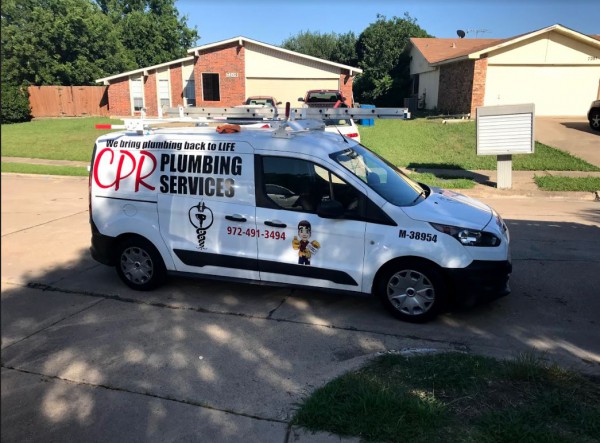 CPR Plumbing Services is known throughout Lewisville and surrounding communities for providing prompt and reliable plumbing assistance.
We help Lewisville residents with a variety of issues, including:
We can also help with a variety of other plumbing issues. Our have an in-depth understanding of all things plumbing and the ability to quickly diagnose and resolve your current issues.
Cleaning & Repair Services for Pipes & Drains in Lewisville
Drain clogs are an unfortunate reality of life, even when you're careful about where you dump grease or what you flush down the toilet. Often, circumstances well beyond your control wreak havoc. For example, roots are a huge problem for homeowners in Lewisville. Eager to find any possible source of moisture, roots may invade your sewer lines, leading to difficult-to-resolve blockages.
Whether your current clog was caused by roots or flushing the wrong item down the toilet, you need prompt service from a trusted Lewisville plumber. CPR Plumbing Services can help. We'll arrive at your home quickly and ready to resolve the issue. Once we pinpoint the problem, we can offer feedback on ideal solutions and then get started on your preferred fix. Depending on the situation, this may include rooter services or hydro jetting. Both are great options for addressing blockages.
With hydro jetting, we use high water pressure to thoroughly clean your system. This approach may be used on its own or following rooter service. In some cases, we use advanced rooter cameras to take a closer look at the problem. This ensures accurate diagnosis and better allows us to suggest an appropriate solution.
CPR Plumbing Services' Commitment to Great Customer Service
At CPR Plumbing Services, we are fully committed to making our customers fully satisfied. Our stellar reviews speak highly of our prompt and friendly services. Both regular and new customers are impressed that our staff manages to remain both professional and empathetic at all times.
In our ten years of serving the Lewisville community, we've earned multiple awards. In 2011, 2015, 2016, and 2017, we have been the proud recipient of the Star Local Media award for Best Plumber in The Colony. More recently, we earned the 2018 Expertise award for Best Dallas Plumber.
At CPR Plumbing Services, we're quick to respond to calls. Our customers are grateful for our friendliness and our detailed feedback. We prioritize honesty, so we'll tell you exactly what is wrong with your plumbing system. From diagnosis to repair, we treat you with respect every step of the way.
Living in Lewisville
As a Denton County suburb in the North Dallas area, Lewisville had an estimated population of 104,039 as of 2015. The city's convenient location may be the biggest driving factor behind its explosive growth; residents enjoy easy access to both Dallas and Fort Worth. Others commute to nearby communities such as Frisco, Carrollton, and Plano. That being said, there is plenty to keep residents occupied right in town. The business-friendly city has attracted a lot of major employers, including Xerox, Bed Bath & Beyond, and SYSCO. These businesses and Lewisville's proximity to other economic hubs account for the city's low unemployment rate.
The economy may be booming in Lewisville, but that's not the only thing to love about living in this growing city. While residents enjoy big city living, they also live near some of the region's most beautiful parks and preserves. The Lewisville Lake Environmental Learning Area (LLELA), for example, is a top attraction. LLELA preserves native ecosystems while promoting environmental education. Habitats preserved within LLELA include wetlands, prairies, and bottomland hardwood forests.
When they're not enjoying the great outdoors, residents can often be found at Lakepoint Towne Crossing or the Music City Mall, where several of the city's best stores are located. Other enjoyable activities in town include movies at the Cinemark and live shows at the Medical City Lewisville Grand Theater.
Ready to learn more about how CPR Plumbing Services can help you with your plumbing concerns? Don't hesitate to contact us at your earliest convenience. The sooner you get in touch, the sooner we can resolve your plumbing issues and get you on the path to worry-free homeownership in Lewisville.
Call (469) 514-5707 or contact us online to learn more about our plumbing services.