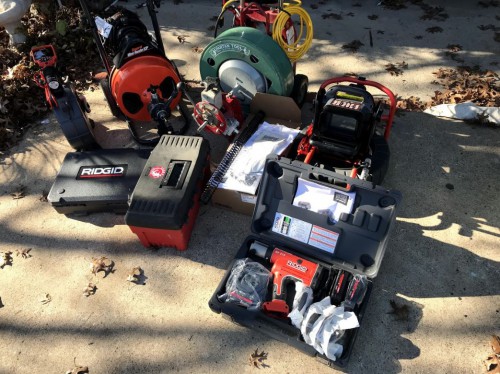 Drain & Pipe Cleaning & Repair in The Colony
Few things annoy residents of The Colony quite like clogged pipes. Clogs can arise from issues such as out-of-control roots or something as mundane as accidentally pouring grease down the drain. Regardless of the cause, you should contact CPR Plumbing Services to take care of it.
When the team from CPR Plumbing Services arrives at your home, you'll receive a full inspection. Once the true nature of your clog is determined, your technician will commence with the cleaning or repair process. This may involve hydro-jetting — a cleansing technique in which high water pressure is used to remove debris. Hydro-jetting is often the most reliable method for getting rid of blockages.
CPR Plumbing Services' Commitment to Great Customer Service
Customer service is a priority for homeowners in The Colony. At CPR Plumbing Services, we treat customers with the respect and compassion they deserve. We know how distressing it can be to deal with plumbing problems and we take action to ensure that your problem is promptly resolved.
Any plumbing company in The Colony can claim to provide excellent customer service, but we're backed up by numerous five-star reviews. Our customers regularly comment on our friendly attitude, our attention to detail, and our quick work.
We've also received our fair share of local awards. In 2011, 2015, 2016, and 2017, we were named Best Plumber in The Colony by the Star Local Media Reader's Choice Awards. In 2018, Expertise highlighted CPR Plumbing Services as the Best Dallas Plumber.
Living in The Colony
Perfect for Texans looking to escape the big city while still enjoying easy access to cosmopolitan amenities, The Colony takes a slightly slower approach to life than other communities in the Northeast Dallas area. As of 2016, The Colony had an estimated population of 42,408.
Athletics and recreation are a priority in The Colony, which is home to the Five Star Athletic Complex. In 2003, The Colony was highlighted by Sports Illustrated as the Sports Town of the United States. When residents aren't hanging out at The Colony's state-of-the-art athletic complex, they're enjoying the great outdoors. Many enjoy hitting the green at the Stewart Peninsula Golf Course. Wynnwood Park is also a top attraction; the park has a three-mile shorefront trail and a spectacular view of Lake Lewisville. Looking for a one-of-a-kind entertainment option? Grandscape offers dining, shopping, and outdoor entertainment with live events all in one place.
While there is plenty to do in and around The Colony, many residents' idea of a good time is an evening of relaxation in the backyard. Cookouts are an integral part of social life, so community members prioritize household and yard upkeep.
If you live in The Colony and are eager to work with the area's most reliable plumbing company, don't hesitate to call CPR Plumbing Services. Reach out today to learn more about our services in The Colony and throughout the Northeast Dallas area.
Call (469) 514-5707 or contact us online to learn more about our plumbing services in The Colony.